ChadSpark writes:

Police arrested eight people in connection with an alleged heroin ring that operated near a school in the Austin neighborhood.

Undercover narcotics officers made 12 drug buys near Cicero Avenue and Walton Street, all within 1,000 feet of a school, according to a police news release.

Authorities issued warrants for 12 people allegedly involved in the ring, and subsequently arrested eight of those, including a 16-year-old. One of the suspects was arrested while committing a burglary, and another while gambling illegally, according to the release.


Police also conducted a search in the 900 block of North Waller in connection with the arrests, and recovered a small amount of heroin, two handguns and a shotgun, the release read.

Those arrested were:

- George Compton, 18, of Maywood. Charges: Delivery of a controlled substance, gambling - Gregory Brown, 37, of the 4500 block of South Lavergne. Charges: Delivery of a controlled substance, burglary - James Lostion, 30, of the 4800 block of West Rice. Charge: Drug conspiracy - Deron Collins, 18, of the 1100 block of North Keeler. Charge: Delivery of a controlled substance - Jamarl Williams, 18, of the 900 block of North Leclaire. Charge: Warrant for dangerous drugs - Jamion Winters, 18, of the 900 block of North Lamon. Charge: Warrant for delivery of a controlled substance - Pledge Diming, 47, of the 900 block of North Leclaire. Charge: Warrant for delivery of a controlled substance - Juvenile, 16. Charge: Possession of a controlled substance

http://www.wthr.com/Global/story.asp?S=12331977

Alleged robber killed in shooting near downtown
Updated: Apr 18, 2010 10:17 PM CDT

Indianapolis - A man was shot and killed as he reportedly tried to rob an apartment on the near north side Sunday afternoon.

Metro police officers responded to a report of a person shot at an apartment building at 1503 N. Pennsylvania Street around 4 p.m. Sunday. When they arrived, they found an unidentified male lying in the third floor hallway with multiple gunshot wounds. Paramedics pronounced the man dead at the scene.

The 24-year-old shooter told police he and his girlfriend were helping another friend move into an apartment when they were approached by the shooting victim, who was asking for change for a five dollar bill. One of the men said they had change in the apartment.

As they walked into the building, the shooting victim pulled out a gun and ordered everyone into the back room. The shooter said he feared for their lives, so while walking to the back area of the apartment, he pulled out a gun he was carrying, turned and fired at the would be robber. It is unknown if the shooting victim fired any shots.

Police say the shooter had a permit to carry a handgun. He and the two other victims of the apparent attempted robbery were taken in for interviews and to give statements to police. No arrests have been made at this time.

"It appears, based on preliminary information, to have been a case of self-defense," IMPD Sgt. Matt Mount wrote in a release.

The would-be robber has not yet been identified, but police say he was wearing an ankle bracelet consistent with those issued for home detention.

Starting later this summer, U.S. citizens 21 and older can begin carrying a concealed firearm without a permit in Arizona
Gov. Jan Brewer signed Senate Bill 1108 into law Friday afternoon. It eliminates the requirement for a concealed-carry weapons permit, but does require gun owners to accurately answer if an officer asks them if they are carrying weapon concealed. It also allows officers to temporarily confiscate a weapon while they are talking to an individual, including during a traffic stop.
"I believe strongly in the individual rights and responsibilities of a free society, and as governor I have pledged a solemn and important oath to protect and defend the Constitution," Brewer said in a news release. "I believe this legislation not only protects the Second Amendment rights of Arizona citizens, but restores those rights as well."
The law goes into effect 90 days after the Legislature adjourns for this session, which could happen in the next couple of weeks.
Arizona joins Vermont and Alaska in not requiring such permits.
"If you want to carry concealed, and you have no criminal history, you are a good guy, you can do it," bill sponsor Sen. Russell Pearce, R-Mesa, has said of his bill. "It's a freedom that poses no threat to the public."
National Rifle Association lobbyist Matt Dogali said the new state law would not violate any current federal requirements.
"There is no federal requirement for a permit or lack thereof," Dogali said.
The federal government oversees the background-check program required to purchase a weapon, which will still be required in Arizona in most cases.
Brewer last week did sign a separate law that exempts guns made and kept in Arizona from federal regulation, including background checks.
Arizona had 154,279 active permits as of April 4. Permit holders are spread across all ages, races and counties, but White males older than 30 in Maricopa and Pima counties hold the majority, according to the Arizona Department of Public Safety data.
The permits generated $1.8 million in revenue last fiscal year, according to DPS. The money is used to help cover costs for enforcing laws related to the Highway Patrol, operating the concealed-carry weapon-licensing program and impounding vehicles.
Arizona's permit process will remain in place, and many gun owners may still choose to get a permit. Permits would still be needed in order to carry a weapon into a restaurant or bar that serves alcohol. They would also be needed if an Arizonan wants to carry his or her gun concealed in most other states.
For those who do choose to get a permit, the education requirements do change under the new law. Classes are no longer required to be a set number of hours or include any hands-on use of the weapon. Those who don't get a permit would not be required to get any training or education.
Retired Mesa police officer Dan Furbee runs a business teaching permit and other gun safety classes. He said if most people choose not to get a permit, it will put several hundred Arizona firearms instructors out of business.
"It's going to hurt," he said.
But he said what really concerns him is that the new law will allow people who have had no education about Arizona's laws and no training on the shooting range to carry a concealed gun. The eight-hour class currently required to get a permit includes information on state law and gun safety, as well as requires students to be able to hit a target 14 out of 20 times. Furbee said his class at Mesa-based Ultimate Accessories costs $79, plus $60 for the five-year permit.
"I fully agree that we have a right to keep and bear arms," Furbee said. "But if you are not responsible enough to take a class and learn the laws, you are worse than part of the problem."
He said it's not uncommon for students to walk into his classroom and pull a new gun out of a box with no idea how to hold it and no understanding of the laws surrounding it.
"If you are going to carry a concealed weapon, you should have some kind of training and show that you are at least competent to know how the gun works and be able to hit a target," he said. "You owe the people around you a measure of responsibility."
This new law is the latest of several that have passed over the past year since Brewer took over the office from former Gov. Janet Napolitano, a Democrat.
Napolitano vetoed at least a dozen weapons bills that crossed her desk during her seven years in office, all of which would have loosened gun restrictions. In 2005, Napolitano rejected a bill that would have allowed patrons to carry loaded guns into bars and restaurants. In 2008, she also vetoed a bill that would have allowed people to have a hidden gun in vehicles without a concealed-carry permit.
In January 2009, Napolitano resigned to become U.S. Homeland Security secretary and Republican Secretary of State Brewer became governor.
During her first year in office, Brewer signed a bill allowing loaded guns in bars and restaurants, as well as another that prohibits property owners from banning guns from parking areas, so long as the weapons are kept locked in vehicles.
cgiannis writes:

Link to Original AP News Story Here

PHOENIX – Favoring the constitutional right to bear arms over others' concerns about gun safety, Gov. Jan Brewer on Friday signed into law a bill making Arizona the third state allowing people to carry a concealed weapon without requiring a permit.

The measure takes effect 90 days after the current legislative session ends, which likely puts the effective date in July or August.

"I believe this legislation not only protects the Second Amendment rights of Arizona citizens, but restores those rights as well," Brewer, a Republican, said in a statement.

Alaska and Vermont now do not require permits to carry concealed weapons.

By eliminating the permit requirement, the Arizona legislation will allow people 21 or older to forego background checks and classes that are now required.

Supporters say the bill promotes constitutional rights and allows people to protect themselves from criminals, while critics worry it will lead to more shootings as people with less training have fewer restrictions on carrying weapons.

Some police officials are concerned the law will lead to more accidental gun discharges from people untrained in firearm safety, or that shooters in stressful situations will accidentally strike innocent bystanders with stray bullets.

"I know a lot of 21-year-olds; the maturity level is gravely concerning sometimes," said El Mirage Police Chief Mike Frazier, an Arizona Association of Chiefs of Police board member. "If you're going to be carrying a weapon you should know what the law is and how to use it."

However, the measure was supported by police unions representing rank-and-file officers, who said their best friend on the streets is a law-abiding citizen equipped to protect themselves or others.

The police chiefs group initially opposed the bill but then took a neutral stance after some provisions were changed at their request. Brewer's office also participated in negotiations on changes to the bill.

A Democratic leader, Rep. Kyrsten Sinema, of Phoenix, said the bill deprives law enforcement of a tool "to separate good guys from the bad guys." With a permit requirement, police encountering a person with a concealed gun but no permit had reason to suspect that person was not a law-abiding citizen, she said.

The Arizona Citizens Defense League, a gun-rights group that lobbied for passage of the "constitutional carry" bill, said gun owners foregoing permits still should get training. "The heaviest thing about wearing a firearm is the responsibility that comes with it," the group said.

Arizona's permissive gun laws gained national attention last year when a man openly carried a semiautomatic rifle to a Phoenix protest outside a speech by President Barack Obama.

Nearly all adults can already carry a weapon openly in Arizona, and supporters of looser laws argue that gun owners shouldn't face additional restrictions just because they want to hide the weapon.

Currently, carrying a hidden firearm without a permit is a misdemeanor punishable by up to six months in jail and a fine of up to $2,500.

Forty-five other states require permits for hidden guns, and two states — Illinois and Wisconsin — prohibit them altogether.

Federal law requires anyone buying a gun from a licensed dealer to undergo a background check, but that requirement does not apply to sales by individuals who aren't dealers. Arizona's law won't change that.

Under the Arizona legislation, people carrying a concealed weapon will be required to tell a police officer that if asked, and the officer can temporarily take the weapon while communicating with the person.

More than 154,000 people have permits to carry a concealed weapon in Arizona.

The bill acted on by Brewer was the first attempt to lift the permit requirement to reach an Arizona governor's desk.

Brewer's predecessor, Democrat Janet Napolitano, in 2007 vetoed two related bills. One would have reduced penalties for carrying a concealed weapon without a permit. The other would have allowed a person without a permit to carry a gun largely concealed as long as any part of it or its holster was visible.

Brewer in 2008 signed into law a bill allowing a person with a permit to take a gun into a restaurant or bar serving alcohol as long as the establishment doesn't prohibit it and the person isn't drinking alcohol. Napolitano vetoed a similar bill in 2005.
http://www.northernstar.info/ArticlePage.php?pk=2042&sectionfrom=35

Two groups demonstrate in MLK Commons for Right to Carry
Publish Date:04/15/2010
By Jon Levanich and Justin Weaver
Two groups supporting concealed carry of firearms demonstrated in the King Memorial Commons Wednesday.

One of the groups, from the Web site ICarry.org, travels across Illinois and Wisconsin promoting a transition to Right to Carry.

"It's about making people feel safe," said Shaun Kranish, executive director of ICarry.org. "We want to show people that gun-free zones are the places where you have massive shootings."

Illinois and Wisconsin are the only states that do not allow some form of concealed carry. Washington, D.C. also does not allow concealed carry of any form.

Just a short walk from the MLK Commons is Cole Hall, the site of the Feb. 14, 2008 shootings that left five NIU students dead.

Don Transue, a Batavia native and creator of gunmap.org, said the proximity was no coincidence. "We chose to be close to Cole Hall," Transue said.

ICarry.org member Tyler Hooker is familiar with Cole Hall. Hooker, who lives in Sycamore, attended NIU as a graduate student from 2003 to 2007 and taught classes in Cole Hall.

Hooker believes the events of Feb. 14 might have been averted if concealed carry were allowed.

"NIU had a great response, but they can't get there quick enough," he said. "There's a much better chance for people to protect themselves. The bad guys don't know who's armed. They have to think twice before committing crimes."

The same philosophy can be applied to the shootings at Virginia Tech that left 32 students dead, Hooker said. Friday marks the third anniversary of that incident.

Although Hooker believes it would help, he doesn't feel concealed carry is the ultimate solution to crime.

"I don't think it's a magic wand that can protect you from everything, but it's an option," he said. The ability to react to an immediate threat is one of the main reasons Kranish supports concealed carry.

"Police are always second responders," he said. "[On Feb. 14], they did a great job, but it was still enough time to kill five people. Those people were helpless to defend themselves. That's what makes me the most angry."

Kranish believes that since criminals will ultimately break the law, civilians should have the right to protect themselves from those people.

"Criminals and gangbangers are always going to shoot each other no matter what. What bothers me is that they attack innocent people. They attack the handicapped, the elderly and women," he said. "Murder is against the law. If you're going to disobey that, why the hell would you obey a gun law?"

Transue was pleased with the results from the demonstration.

"A lot more people were open minded than I thought," Transue said. "Five or 10 years ago it would have been a little different because not as many states were on board with the Right to Carry. But I probably talked to 90 or 100 people, and I bet almost 90 of them were open minded and willing to learn more about this."

While Transue said many people are open minded on the subject, not all students were as anxious to support concealed carry. "Personally, I don't really care," said freshman nursing major Angela Spahr. "It doesn't bother me [that they are this close to Cole Hall]. People are always up here doing things for their different organizations."
DeKALB – A group that is fighting for Illinois residents to be able to carry concealed weapons said they spent several hours at Northern Illinois University on Wednesday to honor the victims of a campus shooting two years ago.

Shaun Kranish, executive director of ICarry.org, said the organization was gathering on the two-year, two-month anniversary of the Feb. 14, 2008, campus shooting to honor the five students who were killed. Another 21 people were injured in the incident at Cole Hall before the gunman killed himself.

"We are just trying to raise awareness and honor the victims of the massacre," Kranish said during a phone interview before the event started. " ... We believe we are honoring them by raising awareness of the fact that they were all helpless. Every single one in that hall was helpless and not able to have a way to protect themselves against the maniac who did that."

The group met shortly after noon outside of the Holmes Student Center and intended to stay until the evening. Participants were wearing empty holsters to signify that Illinois does not allow residents to legally carry firearms The group talked with and passed out information to passers-by.

Maria Torres, 22, stopped to speak with the group. Torres, an Elgin resident who said she plans to transfer to NIU in the fall, said she is against carrying guns but that she wanted to hear what the group had to say.

"I have always associated (guns) with violence," Torres said. "I have a bad idea of guns. I don't think they do good."

Scott Black, 30, of Sycamore said he came to the event to support his 2nd Amendment right to bear arms and to raise awareness.

"Life, liberty and the pursuit of happiness," Black said when asked why residents should have the right to bear arms. "You can't have life if you can't defend yourself. You can't have liberty if you can't defend yourself. And you need both to pursue happiness."

The event also was sponsored by Students for Concealed Carry on Campus and GunMap.org. They said they also held the open holster event to raise awareness that many mass-casualty shootings have occurred in gun-free zones, a designation that Kranish said is not going to dissuade someone intent on committing murder.

NIU is a no-carry zone, NIU Police Sgt. Alan Smith said. The group alerted campus police that they would be there Wednesday, Smith said, and they "weren't a disturbance." Scott Peska, director of NIU's Office for Support and Advocacy, said Wednesday afternoon that no one had come into his office with concerns about the group. OSA works with those most affected by the 2008 shooting.

Guns can be legally purchased by Illinois residents, who need to have a Firearm Owner's Identification card and follow other rules. But residents cannot carry them openly or concealed. To legally transport a firearm, it must be unloaded and enclosed in a case by a person who has a valid FOID card, according to the Illinois State Police.

The state's criminal code refers to "a case, firearm carrying box, shipping box, or other container," according to the Illinois State Police Web site.
http://www.wrex.com/Global/story.asp?S=12313327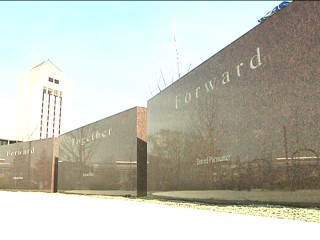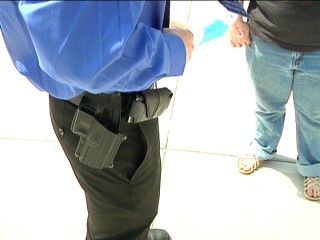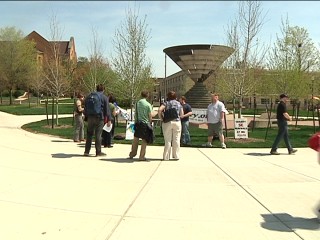 By Katie Nilsson
DEKALB (WREX) - Only two states in the nation do not have concealed carry laws Illinois and Wisconsin. One organization wants to change that.
Members of www.Icarry.org were at Northern Illinois University for a couple of reasons Wednesday. They wanted to honor the victims of the deadly campus shooting a couple of years ago and convince students concealed carry could have prevented it. "Many shootings have been stopped, you can't say they would be stopped but a least they have a chance of protecting themselves, and everyone has the right to protect themselves," Shaun Kranish is the Executive Director of Icarry.org. It's a movement to get states like Illinois and Wisconsin to adopt concealed carry. He says statistics show states with it don't have as much crime. "The more you allow people to defend themselves the safer everyone is."
It's been a little more than two years since Steven Kacmierczak shot and killed five students at N.I.U. inside Cole Hall. Members of Icarry.org think he may have thought twice if he thought that some of the people inside could have guns. Students we talked to had mixed feelings about the issue. Some were all for concealed carry, others not so sure.
"Gun ownership itself isn't bad but you need a high level of gun control to moderate it," says N.I.U. Senior Joel Pitzele. He was walking by the area where the organization was set up, and stopped to gather more information about concealed carry.
Grad student Erum Raja is against the idea. "People get mad, you lose your temper and you get you gun out and shoot someone to. I don't think so; I think it can only make things worse in my opinion." Raja's friend and fellow grad student Matthew O'Connor doesn't share her same feelings. "I do think it's surprising that Wisconsin and Illinois are the only states with restrictions like that. I think it actually would deter crime."
Wisconsin does allow open carry of guns just not concealed. Illinois bans both.
JoeFranzese writes:

Bean Ducks Walsh Health Care Forum, Residents Come Out in Force


(Wauconda, IL)--


Melissa Bean may have declined Joe Walsh's invitation, but nearly 200 concerned 8th district residents turned out for Walsh's health care forum on Thursday evening at American Legion Post 911 in Wauconda.

In contrast to Rep. Bean's controlled, closed-door, invite-only forums, Walsh's was open to the public.

"It's important that all voices are heard," said Walsh. "I hear from hundreds of residents daily with concerns and questions about the federal takeover of health care and these townhall forums are an important means by which to hear from the folks I am running to represent."




Walsh was joined by several experts for the discussion: Pediatrician Dr. Arie Friedman of Premiere Pediatrics, Cardiologist Dr. George Christy of Advocate for Christ Medical Center, and Joe Fehsenfeld, President/CEO, Midwest Printed Circuit Services.

"I wanted to make sure residents heard not just from the candidate but from medical providers and local businesspeople," said Walsh. "Don't just take my word for the need to fight the Medicare cuts and tax increases in the Obamacare legislation, hear from professionals who are assessing the impacts."

Walsh and others made the point that the devil is really in the details of the legislation. For example, the cost projections Rep. Bean offers in defense of her vote for the federal takeover are based on 10 years of projected revenue but only 6 years of spending.

"It's Bernie Madoff accounting," said Walsh. "At a time when Illinois is struggling under 12% unemployment, we cannot afford to stunt the growth of our job-creating small businesses and that's exactly what Melissa Bean has done with her support of this new, unfunded entitlement."

Mr. Fehsenfeld said frankly that the financial burdens of increased payroll taxes and other employer mandates could force him and other small businesses to cut jobs.

Walsh said he would be hosting more forums and he would continue inviting Melissa Bean to participate so that voters understand their very different policy visions on health care, job creation and the range of other issues that directly impact the quality of life 8th district families are able to enjoy.

"I hope residents stay engaged and remember in November that when the time came to choose between her party and her district, Melissa Bean voted to serve the political interests of her party instead of the economic interests of her constituents," said Walsh. "Voters have a crystal clear choice in this election."




Joe Walsh

is the Republican candidate running against Democrat in*****bent Melissa Bean in 2010 for the Illinois 8th Congressional District. Born and raised in North Barrington, a policy advocate, teacher, and business entrepreneur, Joe has spent his adult life advancing limited-government and conservative principles. For more information on Joe Walsh and his campaign visit:


MikeMoore writes:

Original Story Here <--go here and see the video!!!!


CHICAGO - As Police Superintendent Jody Weis addressed the media on a string of overnight shootings, a man was critically shot and wounded just blocks away.

The Chicago Fire Department describes the victim as a man between 20 and 25 years old.

He was transported from the scene near the 6900 block of South Paulina Street to Advocate Christ Medical Center in critical condition.

Shootings across the city over the last 24 hours have left more than two dozen wounded and two dead.
MikeMoore writes:

CHICAGO - Two dozen shootings since Thursday morning have left 22 people wounded and two dead, according to a city official. After a reported 9 people were shot in a 24-hour span Wednesday, it brings a total of 33 people shooting victims, four of whom died of their injuries.

An overnight shooting at Millenium Park wounded a woman in her 20's. Chicago police said she and a friend were sitting on a bench at 205 E. Wacker Drive arround 1:30 a.m. when two men approached. Police said she was shot and struck in the arm when she stood up to protest. The woman was driven to Gottlieb Memorial Hospital in Melrose Park by a friend where she was treated and released. Police do not know why she went to Melrose Park for treatment.

On the South Side, two men were killed in separate incidents. In Englewood, a man in his 30's was shot in the shoulder around 11:15 p.m. Thursday at 64th and Paulina. The 30-year old man suffered a gunshot wound to the shoulder and was transported to Mount Sinai Hospital where he was pronounced dead around 2 a.m. Chicago police said they discovered the victim after arriving at the scene. No one is in custody.

In the second recorded homicide, a 27-year-old man died after he was shot multiple times on the street near his South Side home early this morning, police said. It happened around 12:15 a.m.

The victim was identified by the Cook County medical examiner's office as Jermaine Streeter, of the 3800 block of South Michigan Avenue. Police said he may have been the target of a drive-by shooting.

Six people were shot near 66th and Marshfield in two separate incidents that began around 1 a.m. In that incident, police had responded to a report of four people shot at that location. After ambulances began leaving with patients, more gunfire broke out injuring two others. Four of the initial shooting victims were listed in critical condition. The two victims wounded while police were still on the scene are listed in stable condition. In that second shooting, a woman suffered a graze wound and a man was shot in the buttocks, according to police.

Another multiple shooting happened at 42nd and Wells Street around 1:30 a.m. Three men were shot but all sustained non-life threatening injuries. One man was shot in the elbow, another in the ankle, and a third in the arm. All are listed in stable condition at Provident Hospital.

Here is a rundown of the shootings compiled from Chicago police department reports:
4100 S. Albany--10 a.m. Thursday

81st and Essex Avenue --3:11 p.m.

95th Street and King Drive --4 p.m.

79th and Dorchester-- 11 p.m.

64th Street and Paulina--11:15 (Homicide)

300 E. 131st Place--11:53 p.m.

3800 S. Michigan--12:15 a.m. Friday (Homicide)

66th St. and Marshfield Avenue-- 1 a.m. (six shot)

123rd Street and Halsted--1:10a (four shot)

116 N. Lockwood--1:25 a.m.

Millenium Park--1:30 a.m.

79th and Cornell-- 3 a.m.

42nd and Wells--3:30a (three shot)

51st and Hermitage--u/k time
JoeFranzese writes:

PHOENIX – The Arizona House voted Thursday to make the state the third in the nation to allow people to carry concealed weapons without a permit, sending the governor a bill that would allow Arizonans to forego background checks and classes that are now required.

The legislation, approved by the House 36-19 without discussion, would make it legal for most U.S. citizens 21 or older to carry a concealed weapon in Arizona without the permit now required. Currently, carrying a hidden firearm without a permit is a misdemeanor punishable by up to six months in jail and a fine of up to $2,500.

Sen. Russell Pearce, a Mesa Republican who sponsored the measure, said last week that he added changes requested by Gov. Jan Brewer's office, an indication that she is likely to sign it. The governor can sign or veto the measure, or allow it to become law without action.

If the legislation is enacted, Arizona would join Alaska and Vermont in not requiring permits to carry concealed weapons. Forty-five other states require permits for hidden guns, and two states — Illinois and Wisconsin — prohibit them altogether.

Supporters say gun restrictions only affect people who want to follow the rules because criminals will carry hidden guns regardless of the law. Nearly all adults can carry a weapon openly in Arizona, and they shouldn't face additional restrictions when they want to hide the weapon, supporters argue.

"What's dangerous is when they're in criminals' hands, not citizens' hands," said Rep. David Gowan, R-Sierra Vista, a bill sponsor.

Opponents argue legalizing concealed weapons will make it easier for criminals to carry them, endangering police. They also worry the bill would lead to more accidental gun discharges by people not adequately trained in firearm safety.

"We wouldn't give people driver's licenses without requiring training or testing. Why would we give people the ability to carry a concealed weapon anywhere?" said Rep. Steve Farley, D-Tucson.

There are more than 154,000 active concealed weapon permits in Arizona.

Under the measure, Arizonans would still be subject to the background checks federal law requires when buying firearms from a store. People carrying a concealed weapon would be required to tell a police officer if asked, and the officer could temporarily take the weapon while communicating with the gun carrier.

Under the legislation, permits still could be obtained on an optional basis so Arizonans could carry concealed weapons in states with reciprocity agreements. Permits also would be required to carry weapons in bars and restaurants that serve alcohol.

With the elevation of Brewer to the governor's office, Arizona gun-rights advocates have had a wave of success over the past two years.

The state in 2009 loosened its gun laws to lift a ban on guns in establishments that serve alcohol, although gun-bearers still cannot drink alcohol and establishments can ban firearms.

Brewer, a Republican who took office in January 2009, signed that measure into law. Her predecessor, Democrat Janet Napolitano, vetoed several measures pushed by gun-rights supporters before resigning to run the U.S. Homeland Security Department.

On Monday, Brewer signed two bills loosening gun restrictions. One bill broadened the state's current restrictions on local governments' ability to regulate or tax guns and ammunition.

The other bill declares that guns manufactured entirely in Arizona are exempt from federal oversight and are not subject to federal laws restricting the sale of firearms or requiring them to be registered.

___

Associated Press writer Paul Davenport contributed to this report.



JoeFranzese writes:

STARTS AT 12PM, JUNE 27TH AT LINDEN BARBER SHOP, 2050 EAST GRAND AVE. LINDENHURST IL. 60046

FOR MORE INFORMATION, CALL JOE AT 847-219-6102

B.O.D. JOE FRANZESE IS HOLDING HIS ANNUAL CAR SHOW/ FUNDRAISER FOR A GREAT CHARITY THIS YEAR!

I WOULD HOPE MANY ICARRY MEMBERS WILL BE ABLE TO ATTEND.

EVERYTHING IS FREE AND A HELL OF A SHOW!!!

FUNDRAISER FOR "ONE HOPE UNITED, LAKE VILLA, IL."
HELPING KIDS, STRENGTHINING FAMILIES.

COME MEET MIXED MARTIAL ARTS SUPRESTAR CLAYTON GUIDA!!!*

LETS BREAK THE 200 CAR MARK THIS SEASON!!!!

50/50 AND PRIZE RAFFLES- KIDS STUFF- HOT RODS- DRAGSTERS- PRO MODS- FOOD- FUN FOR THE WHOLE FAMILY
ChadSpark writes:

College students across America will once again strap on empty holsters in an act of silent protest against laws and policies banning licensed concealed carry on campus.



The protest, sponsored by Students for Concealed Carry on Campus (SCCC), will take place April 5-9, 2010 and comes on the heels of college administrators discriminating against concealed carry permit holders, and censoring students who disagree.



According to the group, colleges have repeatedly ignored or attempted to keep students from discussing the issue. In Pennsylvania, one college banned SCCC member Christine Brashier from handing out fliers about the group, stating, "You may want to discuss this topic but the college does not, and you cannot make us." Another college in Texas tried to block students from wearing the symbolic empty holsters on campus until a federal judge ruled that their ban violated the First Amendment. And a recent decision at Colorado State University overturned a long-standing policy that allowed concealed carry, despite the fact that crime on campus decreased rapidly since allowing concealed carry on campus, and no problems were reported among permit holders. The ban was opposed by students, Student Government, and local law enforcement.



"Colleges aren't content to ban the right to self-defense anymore," said David Burnett, a spokesman for SCCC. "Now they're trying to suspend the right to freedom of speech. They want to silence us and hope we'll go away. It's outrageous and our membership cares too much about self defense to remain silent."
The group was formed shortly after the Virginia Tech shooting, and advocates that persons with state-issued permits be allowed to carry concealed handguns on college grounds.



"Compulsory defenselessness doesn't make students safer, it makes them less safe," said Burnett. "A piece of paper taped to the door saying guns are against the rules has yet to stop a criminal, whether a mass shooter or an armed rapist. It merely assures the criminal that victims are incapable of effective resistance. There are no security checkpoints or metal detectors to pass through in order to enter a college campus and absolutely no way for colleges to control what a criminal brings on campus. Until they can take responsibility for our safety and guarantee our protection, colleges can't be allowed to deny us the right to self-defense."



Contact:
David Burnett
Director of Public Relations
David.Burnett@concealedcampus.org
www.concealedcampus.org

ChadSpark writes:

A Turley, Oklahoma homeowner used his handgun to stop a burglar who was attacking with a sword and a gun.

Police say that a couple, including a man who had a concealed carry permit, returned to their home on the 6000 block of North Owasso, at approximately 10:00pm, to hear an unexpected noise coming from the bedroom. Upon investigating, the homeowner reportedly found a burglar, who was armed with a sword and a handgun, in the master bedroom. The burglar is said to have advanced on the homeowner, despite being warned to stop, at which point the homeowner fired one shot in self defense. Injured, the burglar fell to the ground but then tried to aim a handgun at the homeowner, at which point the homeowner fired again in self defense, fatally wounding the burglar, according to police. Neither of the home's occupants was harmed.

Those opposed to gun ownership for self defense like to suggest that crime victims will be unable to get their self defense gun in time to stop an armed criminal. That is simply not the case. Here, the homeowner was able to draw his lawfully carried gun and fire in self defense, even after twice delaying his self defense efforts so as to give the intruder a chance to surrender. Also, note that the intruder had the element of surprise, and was armed with both a gun and a sword - yet the armed law abiding citizen prevailed.

Nor is this an isolated example of citizens managing to get their gun and fire in time: This homeowner managed to get his gun from a drawer, despite the fact that a criminal held a knife to him. This elderly man managed to grab a self defense gun, despite being shocked with a stun gun and beaten by a 24 year old man. This man managed to draw his concealed carry handgun and shoot an armed robber in self defense, despite the fact that that robber was standing behind him and pointing a shotgun at his back. This jewelry store owner managed to grab his gun from under a desk, despite the fact that two robbers were in his store, one of whom had a gun pointed at him. This pawnshop manager managed to shoot an armed in self defense, saving himself and his teenage employee, despite the fact that a gun was being held to that employee's throat. I could go on with many more examples, but the point should be clear – armed self defense works.



You never know when you may need it -- keep it on you all the time like this guy did!

ChadSpark writes:

OLNEY, Ill. — A Richland County, Ill., Sheriff's Department deputy has been arrested on charges he stole money from a criminal suspect's wallet and also took a 12-gauge shotgun.

Johnnie D. "J.D." Robinson, 31 of Noble, Ill., was arrested Wednesday by Illinois State Police detectives on two felony charges of official misconduct and a misdemeanor charge of theft under $300.

According to a criminal information filed in the case, Robinson is accused of stealing $600 cash out of the wallet of a criminal suspect identified as Edward P. Shaw. The alleged theft happened in June 2008. He also is accused of stealing a Winchester 12-gauge shotgun from an undisclosed location. The gun had a value of less than $300, resulting in the misdemeanor theft charge.

Robinson remains free on $2,500 cash bond pending an April 27 appearance in Richland Circuit Court in Olney, Ill.

Federal Firearms Laws Fraud Revealed
The Federal Government has no constitutional authority to regulate firearms. How then have all these federal laws been passed and enforced? What about all the new laws that are always hanging over the heads of tens of millions of peaceful gun owners?

THE FRAUD EXPOSED HERE!!
Sadly, you will only find it here. Encourage other pro-gun organizations to copy and post this information!!!
Wednesday, January 12, 2011

Tuesday, November 16, 2010

Wednesday, October 20, 2010

Sunday, October 17, 2010

Tuesday, September 28, 2010

Friday, September 24, 2010

Thursday, September 23, 2010

Wednesday, September 22, 2010

Sunday, September 19, 2010

Monday, September 13, 2010

Friday, September 03, 2010

Tuesday, August 31, 2010

Monday, August 30, 2010

Tuesday, August 24, 2010

Sunday, August 22, 2010

Wednesday, August 11, 2010

Friday, July 30, 2010

Monday, July 19, 2010

Thursday, July 01, 2010

Monday, June 28, 2010

Sunday, June 27, 2010

Tuesday, June 22, 2010

Sunday, June 20, 2010

Tuesday, June 15, 2010